This article contains affiliate links. If you make a purchase, we may earn a commission.
---
When a building catches our eye, we may wonder who the architect or construction developer behind it is. However, the project we're dazzled by could not have been completed without the help of another person; a jack of all trades, who plays a crucial role from the start, before construction even begins. Yes, we're referring to the quantity surveyor!
Quantity surveyors are the experts handling both the contractual and financial sides in a project, managing relationships and time phases, and ensuring that activities remain within budget. These professionals also see that building and civil engineering structures fulfill legal and quality requirements.
If you're mathematically inclined and enjoy variety in your work, then pursuing a career as a quantity surveyor might make sense for you! Read on to find out all about the profession and what steps you should take to land your dream job.
Quantity surveyors are construction industry professionals that specialize in managing both costs and contracts for large-scale projects. Their job requires collaboration with contractors, engineers, architects, and regional planners at all stages of construction.
As it entails forecasting costs and estimating timeframes and quantities for materials, quantity surveying is vital in the pre-construction stage. In this phase, quantity surveyors must also monitor the procurement of materials. Then, once the building phase commences, quantity surveyors must track any deviations from the original projections in project duration and cost, making adjustments as needed.
To summarize, quantity surveyors:
Estimate quantities for materials, such as concrete
Forecast and manage project costs
Prepare tender documents and contracts
Identify and mitigate potential risks
Perform mediation tasks and manage disputes
Valuate construction work
As we've seen, quantity surveyors play a key role in construction projects. As a result, their job combines both time in the office and out on construction sites. In this section, we'll be describing that in more detail and looking at quantity surveyors' typical work hours, job satisfaction levels, and what occupational hazards they may face.
Work environment
In many cases, quantity surveyors find employment in firms that offer construction, repair, and maintenance services, or consultancies that offer project-delivery, cost-management, and advisory services.
Property developers, architectural practices, and infrastructure companies may also hire quantity surveyors on a full-time basis. However, they'll more commonly offer fixed-term contracts.
In most of these scenarios, quantity surveyors will spend a lot of time in an office setting, working in front of a computer. Depending on what stage the construction is at, they may have to visit the site and spend time there more often.
Work hours
As quantity surveyors widely find employment in firms and consultancies, they typically work standard hours, five days a week.
Though these professionals typically work 40-hour weeks, early morning starts and overtime can often be required. When unanticipated events hinder the progress of the construction, quantity surveyors must work fast under pressure to minimize costly disturbances.
Occupational hazards
According to the International Labor Organization, construction sites are among the most hazardous places to work in. This is because workers are exposed to harmful dust and vapors, harsh weather conditions, and extreme noise levels and vibrations. Falls from a height are also among the most common causes of death on construction sites, alongside being struck by falling or moving objects.
Though quantity surveyors split their time between onsite visits and the office, they are still exposed to these risks when they perform their duties outdoors.
Job satisfaction
The Royal Institution of Chartered Surveyors (RICS) holds the view that quantity surveyors shape the world by transforming our buildings and infrastructure. That's true as, in many countries around the globe, quantity surveyors contribute to the creation of safer, greener cities, which have a positive effect on local communities.
Aside from making a real, visible impact, quantity surveying offers international travel prospects, exposure to innovative technologies, and the opportunity to build future-proof skills.
On the flipside, juggling many responsibilities at once, being exposed to potentially harmful conditions on construction sites, and long frequent commutes can make this job stressful.
When making a decision, make sure you weigh the pros and cons. If the perks of this profession rank high among your career goals, then a quantity surveyor job could prove rewarding, regardless.
Quantity surveying as we know it today was first introduced in 1785 by architect Henry Cooper. Well over two centuries later, quantity surveying and cost management remain integral to the construction process — companies will always be looking for the most cost-efficient solutions, after all.
We might infer, then, that as long as construction projects are in demand, quantity surveyors will be in demand, too. Though this may be the case, the Bureau of Labor Statistics (BLS) has projected a slight decline in employment prospects for cost estimators, which includes quantity surveyors, between 2021 and 2031. Still, this works out to about 18,500 quantity surveyor job openings being created annually over the decade.
According to the BLS, the median annual wages of cost estimators, which includes quantity surveyors, is $65,170 a year. Salaries in this profession seem to range widely, with the lowest 10% of cost estimators bringing home under $38,880 annually, and the highest 10% earning over $115,690.
If you're wondering which state has the best-paid quantity surveyors, it's Massachusetts. In this state, they earn about $50 an hour, which totals to $101,750 a year on average. That's followed by the District of Columbia ($95,670), Hawaii ($86,650), Alaska ($84,910), and New York ($83,550).
Those with no experience in the field can expect a starting salary of $52,000 according to SSA Group, a recruitment firm that has over 10 years of experience in the fields of construction and civil engineering.
Here's a quick overview of the salary information for a quantity surveyor: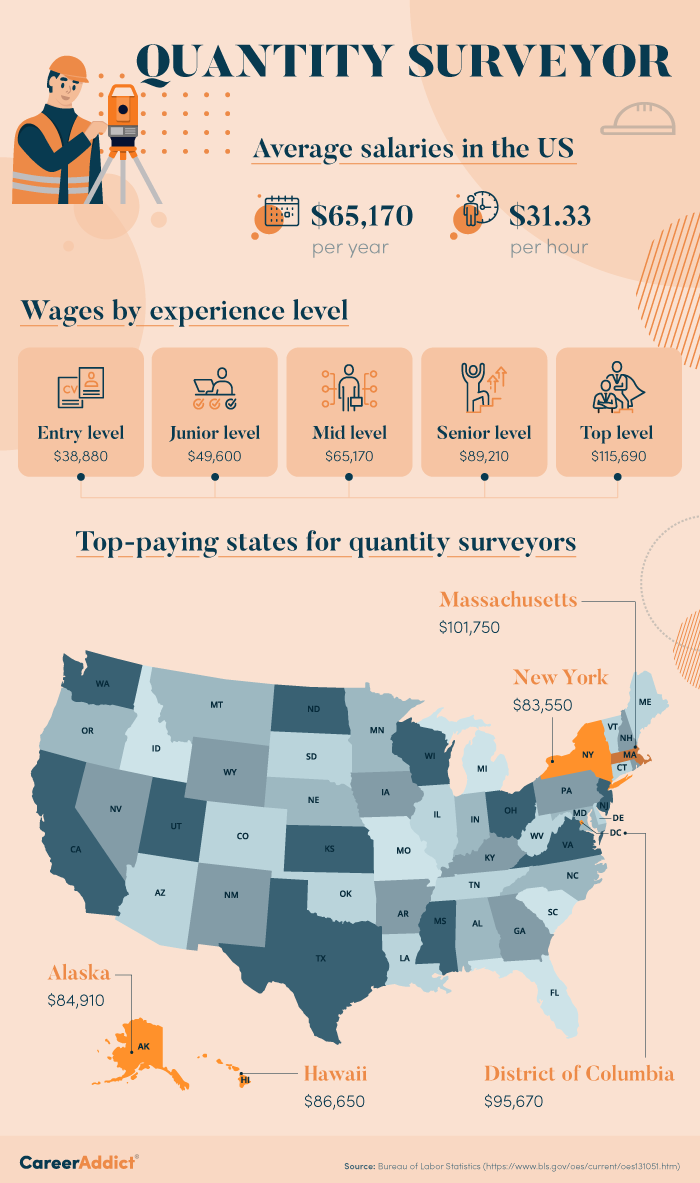 From quantity estimations to budget reports to dispute resolution, quantity surveying is the type of career path that includes various responsibilities. As these duties differ in nature, those interested in pursuing a quantity surveyor job must have the following skillset, comprising both technical knowledge and soft skills:
Communication skills: Strong verbal and written communication skills are a must, as quantity surveyors need to relay critical information to clients and frequently prepare comprehensive reports.
Mathematical skills: Ensuring project costs align with the agreed budget throughout the construction lifecycle requires good computation skills.
An analytical mind: Quantity surveyors must be able to think critically in order to evaluate different construction methods and come up with creative, cost-effective solutions.
Negotiation skills: Effective negotiation can help you save money and time. If at any point activities stray from the project vision, negotiation can help you refocus your priorities.
Attention to detail: Precision is necessary when making labor and material estimates. This is because unexpected changes (even small ones) can greatly increase project expenses.
Time-management ability: Quantity surveying requires lots of planning in advance. When clients rely on you to minimize delays and expenditure, you've got to stay on top of your game.
If you're naturally good at coordinating a team, working with numbers, and condensing complex information into easy-to-follow sentences, then a career in quantity surveying might be right for you. So, how do you go about becoming a quantity surveyor?
Leading to this career path is a sequence of attainable steps. In this section, we'll be outlining them for you.
Step 1: Determine if it's the right career for you
As is often the case, employers looking for candidates in the cost estimation field tend to prefer ones who are educated to university level. Pursuing a quantity surveying career will, therefore, require you to invest both money and time in earning a bachelor's degree or other qualifications.
Before you make that commitment, it may be wise to verify that this is the ultimate career for your skills and personality. And, our career-matching platform, CareerHunter, can do that for you! Comprising six online assessments put together by a team of psychologists and psychometrists, CareerHunter can match you against all types of career paths (250 in total).
Step 2: Complete a bachelor's degree
Though not always a requirement, a bachelor's degree can significantly enhance your chances of finding employment. If you're unsure what courses you should look into, many quantity surveyors major in civil engineering, construction management, or building science.
These degrees will help you learn about many different principles, from construction to management to system integration.
Step 3: Gain experience in the construction industry (optional)
Completing an internship in cost engineering, as the profession is sometimes referred to, can increase your employability down the line. This is particularly important for those who decide not to pursue a degree in construction or engineering.
Though colleges and universities can help their students secure internships, you can also apply on your own through online job boards if you're not enrolled in a program. When submitting your résumé as a student, focus on your education, achievements, and any work experience that might have taught you relevant transferrable skills.
Step 4: Learn how to use industry-specific software
Though your bachelor's degree or internship will prepare you to some extent, building your software expertise in your own time can prove useful. With countless online resources and tutorials, you can gain proficiency in Microsoft Excel, PriMus, CostX, and other software that's widely used in the quantity surveying industry.
Working knowledge of building information modeling (BIM) and computer-aided design (CAD) software can also be seen as desirable.
Step 5: Gain professional certification (optional)
Once you've completed your studies and gained some relevant work experience, you might want to consider earning an additional designation. The Royal Institution of Chartered Surveyors, the American Society of Professional Estimators, and the International Cost Estimating and Analysis Association offer credentials that can help you advance your career.
As chartered surveyors are required to undertake continuing professional development courses, they have an important advantage over their colleagues: they're always up to date with the latest advancements in their field, and seen as authority figures in both valuation and estimation.
Final thoughts
Quantity surveying is one of those jobs that leads to variety, both in terms of where you'll be working and the tasks you'll be executing. Depending on what stage the construction project is at, your day at the office or onsite will require the use of different skills and "thinking hats": computer literacy, to prepare reports and estimates; project management, to juggle multiple activities at once; and human resources knowledge, to build strong relationships and handle disputes.
If you master these skills and remain open to lifelong learning, your career development will thrive. Who knows, maybe one day you could be a senior or principal quantity surveyor at your favorite architectural or real estate firm!
Do you think this job would suit you, now that you've learned a bit more about it? Share your thoughts with us in the comments section.